Sponsored: The beverage industry has seen so much changed, but little has changed with soda cans.  Most energy drinks come in cans. Isn't it time for a change — to clean cans? Join the #CleanCap campaign.
Where's your soda been? Imagine if it had a #cleancap by #Advercan@Can_Advertising peel–off hygienic seal/caps
Sponsored: Food and beverage industry goes to great lengths to protect us from germs and illnesses. Straws come in protective sleeves but soda cans are handled and exposed from shelf to shelf to consumers. Join the campaign to encourage beverage companies to give us a #CleanCap.
Classified — you just got the buzz with DryerBuzz.com classified.
Sponsored: Soda companies could make it easier for moms with peel–off hygienic seal/caps. Join the campaign to get your favorite beverage company to consider this small step in manufacturing but giant step for mankind.  Share the video below or follow the buzz with #advercan.
Sponsored — you just got the buzz from @DryerBuzz.com — transforming the way we look — at life!
Don't miss the next 27Answers conference chat with Yalanda June27th at NOON.  Grab lunch, pen and paper, and get ready for top answers to Go from Audience to Center Stage.
Yalanda P Lattimore wrote the book on buzz after first successful decade in blogosphere as editor of DryerBuzz.com and two decades plus engaging niche audiences.  Frequently asked questions from clients, colleagues, and friends are now found in 27Answers to Create Buzz featured popular workbook and resource to create buzz in business and become a household name.
Access to the call is only $27 and includes a FREE signed copy of 27Answers to Create Buzz signed and delivered via USPS, plus FREE ebook to use during the call.
Sign up today.  Don't miss 27Answers: How to Go from Audience to Center Stage
Refer friends and earn 20% cash back.  Sign up for referral program in sign bar before sharing link.
The HOTTEST and most entertaining COMEDY show OF THE YEAR! BIG LAUGHS COMEDY SERIES Saturday, Jun 21, 2014 featuring Rod Minger, Kiana Dancie, and MC Lightfoot with musical performance by Keni Myles of the Rude Boys and The Point Blank Band. Only $20 bucks purchase NOW!
Tickets On Sale:
Call The Box Office 1-888-929-7849 OR go to
www.gwinnettcenter.com/events/detail/big-laughs-comedy-series (service charge applies)
The Classifieds – you just got the buzz from @DryerBuzz.com – transforming the way we look — at life!
Set your favorite mompreneur on the right track this Mother's day. Pre-order her signed copy of#27Answers to Create Buzz for Moms, highly anticipated follow up to 27Answers to Create Buzzfrom Yalanda P Lattimore, editor of DryerBuzz.com, scheduled for release August 1, 2014.
In anticipation of release date and receiving her very own signed copy, mom will enjoy #27Answers weekly newsletter with chapter previews along with advice to create buzz and generate more leads with her PACH™ .
Hot off the press, mom will received her signed copy of #27Answers to Create Buzz for Moms in the first batch shipped August 1st.
Order today during presale. Mom will receive her first newsletter and chapter preview for Mother's day along with great advice to start creating buzz now.
Yalanda P Lattimore answers frequently asked questions from mom entrepreneurs. #27Answers to Create Buzz for Moms table of contents to include:
1. My office hours… How to balance family and business
2. The PTA is your network
3. Lunches and Legacies
4. Build a Mommy Following in 3 Easy Steps
5. How to Ghange the Game and Diapers
6. How to start a business for FREE (™) and Fully Reimburse Each Expense
7. Create Buzz and Generate Leads with your PACH (™) [Peers Audience Customers and avoid Haters]
More exciting chapters inside. Order pre-sale for exciting chapter previews and weekly newsletter.
Veteran entrepreneur and blogger, Yalanda P Lattimore, answers 27 of the most frequently asked questions (FAQs) about creating buzz for business, blogging for business and nonprofits, with social media, networking, customers, and business.
Yalanda P. Lattimore is the founding editor of DryerBuzz.com News Podcast and NetTV and owner of Sistributions Media. With two decades engaging niche audiences and helping entrepreneurs create buzz for their business, Yalanda moves into a new arena as an author and publisher.
Also available via Amazon in print and kindle.
Extend business shelf life with customers by offering books, series, how to's, product catalogs. Or, turn your blog into the next best seller.  Learn secrets and easy strategies of self publishing and create buzz as an author and expert.  Whatever your book desires, we'll help you reach your goal and create buzz.  Join us in March for the next #27Answers to Create Buzz live webinar.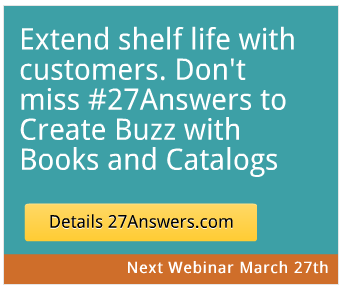 Webinar: From editor of DryerBuzz.com, join veteran blogger and buzz maker Yalanda P Lattimore Thursday, March 27th. Learn to create buzz in 2014. Listen for tried and true best practices in this unique #27Answers presentation followed by hands-on Q&A. Those who stay ready don't have to get ready, so #27Answers is all that's needed.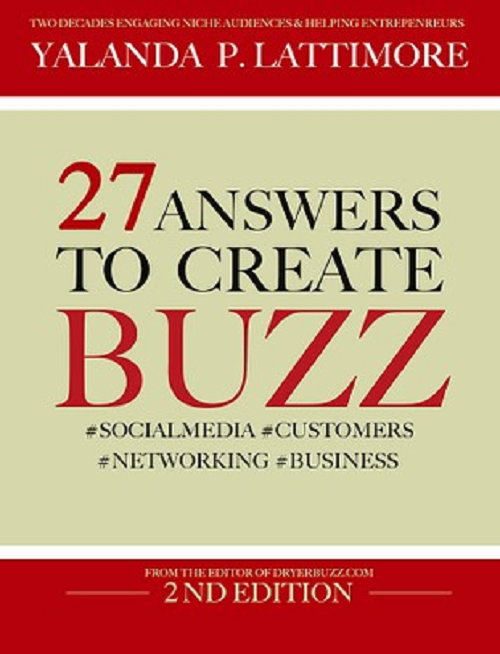 Includes FREE book #27Answers to Create Buzz signed and delivered via US Mail. Ebook provided for workshop.
In this installment, we learn to create buzz with a book. Publishing made easy with tried and true methods.
Turn your blog into a buzzing best seller
Create a buzzing catalog for your business
Become an author with your first great novel
Turn your expertise into the next best how to
Turn followers into lifetime customers with a book
Become the leader of your peers, audience, customers and avoid haters (PACH) when you learn to create buzz with #27Answers to Create Buzz, Thursday, March 27, 2014.
RSVP today. Ebook and conference call info provided via email following registration.
Whether you choose to brave crowds on Black Friday, support Small Business Saturday, or shop from comforts of home on Cyber Monday – we've got buzz to catch deals and be happy.  Get ready — set — shop — #HappyWomen — this is a LIVE Blog — so check back thru the holiday weekend.
Buzzing Black Friday Links:
Hair She Buzz — You just got the buzz from www.DryerBuzz.com — Combing the headlines. Transforming the way we look — at life.

Friend of the Buzz Bey Bright is Back with New Book… 
While millions of women believe they know how to handle their relationships with men, most struggle to find true love and happiness. However, a compelling new book by relationship expert Bey Bright is about to change their lives for the better.
'Claim Your Man; A Woman's Guide To Love, Happiness & Self-Empowerment' combines Bey's unique ability to motivate others with the experience he has gathered studying thousands of relationships. The result is a book that every woman needs to read.
Synopsis:
This book is a self-help woman's guide to attain love, happiness and self-empowerment in relationships. Written by relationship expert and author Bey Bright.
This book aims to give women of all ages and backgrounds real life solid information to be applied in their everyday lives.
As the author explains, his book holds the vital clues to many relationship mysteries.
"This book is vitally important because it gives women of all ages, backgrounds, ethnicities and social statuses a clear and creative roadmap back to rediscovering love and achieving personal fulfilment," says Bright, an accomplished entertainer and inspiring consultant.
Continuing, "It was written for those both struggling to find love and those already in a healthy relationship. No relationship is perfect and there's always room for improvement. My book's broad appeal makes it useful to anyone – however unique or stable their situation."
Critics praise the author for the diligent efforts he is taking to change the lives of others. However, according to Bright, it's a calling.
"Empowering and helping others is a deep passion that I just can't shake. I've now dedicated my life to this cause and there are further books in the works. Stay tuned!" he adds.
'Claim Your Man; A Woman's Guide To Love, Happiness & Self-Empowerment', published by BookBaby, is available now: http://amzn.to/GLg4QP.
Follow the Buzz via www.beybrightinc.com
BookBuzz — You just got the buzz from www.DryerBuzz.com — Transforming the way we look — at life.