Buzz Travels — Follow the buzz to #Bermuda with @bermybeachexp — October 8-11th!!! #BermudaBeachExperience 4 days and 3 nights pure bliss. Book now BermudaBeachExperience.com
Excited about invitation to travel as an #officialblogger.  We'll have all the buzz from take off to turn up.  Stay tuned for updates as we countdown to #BermudaBeachExperience
#BuzzTravels #BuzzPartner #officialblogger #BBE2k15 #HairSheBuzz #vacations #travelblogs
Join us for the first workshop of 2015, How to Get Away with Blogging for Business, Nonprofits, and the Arts, Monday, February 2, 2015.  Register today or secure spot with deposit.
Location:
DryerBuzz at City View – Conference Room
3330 Cumberland Blvd, Suite 500, Atlanta, Georgia, 30339
Ask for Buzz Workshop at Reception
Social media and blogging remains top tools in marketing businesses, nonprofits and especially arts and events.  Who knows best than veteran blogger, early adopter, author, and now radio host, Yalanda P Lattimore.
Enjoy three (3) packed results oriented hours learning to
Build and turn following into lifetime customers
Publish laser focused engaging content
Avoid haters and social crises
Attract more media and exposure
Workshop includes review of top tools and how to bring customers from noisy network into intimate spaces to create relationship and communicate best with customers.
Working with your own blog in mind, leave with top answers to create more buzz in 2015.
Register today DryerBuzz.com/htgawb
Phone registration also available (530) 324-BUZZ (2899)
Free up someone on your list with a TV alternative.  Give the gift of an Amazon Fire TV.  Everybody loves technology and TV alternatives top the list for techies and frugal friends.
Checkback tomorrow for a new deal~
Holiday Deals — you just got the buzz from DryerBuzz.com — transforming the way we look — at life!
Sponsored: The beverage industry has seen so much changed, but little has changed with soda cans.  Most energy drinks come in cans. Isn't it time for a change — to clean cans? Join the #CleanCap campaign.
Where's your soda been? Imagine if it had a #cleancap by #Advercan@Can_Advertising peel–off hygienic seal/caps
Sponsored: Food and beverage industry goes to great lengths to protect us from germs and illnesses. Straws come in protective sleeves but soda cans are handled and exposed from shelf to shelf to consumers. Join the campaign to encourage beverage companies to give us a #CleanCap.
Classified — you just got the buzz with DryerBuzz.com classified.
Sponsored: Soda companies could make it easier for moms with peel–off hygienic seal/caps. Join the campaign to get your favorite beverage company to consider this small step in manufacturing but giant step for mankind.  Share the video below or follow the buzz with #advercan.
Sponsored — you just got the buzz from @DryerBuzz.com — transforming the way we look — at life!
Don't miss the next 27Answers conference chat with Yalanda June27th at NOON.  Grab lunch, pen and paper, and get ready for top answers to Go from Audience to Center Stage.
Yalanda P Lattimore wrote the book on buzz after first successful decade in blogosphere as editor of DryerBuzz.com and two decades plus engaging niche audiences.  Frequently asked questions from clients, colleagues, and friends are now found in 27Answers to Create Buzz featured popular workbook and resource to create buzz in business and become a household name.
Access to the call is only $27 and includes a FREE signed copy of 27Answers to Create Buzz signed and delivered via USPS, plus FREE ebook to use during the call.
Sign up today.  Don't miss 27Answers: How to Go from Audience to Center Stage
Refer friends and earn 20% cash back.  Sign up for referral program in sign bar before sharing link.
The HOTTEST and most entertaining COMEDY show OF THE YEAR! BIG LAUGHS COMEDY SERIES Saturday, Jun 21, 2014 featuring Rod Minger, Kiana Dancie, and MC Lightfoot with musical performance by Keni Myles of the Rude Boys and The Point Blank Band. Only $20 bucks purchase NOW!
Tickets On Sale:
Call The Box Office 1-888-929-7849 OR go to
www.gwinnettcenter.com/events/detail/big-laughs-comedy-series (service charge applies)
The Classifieds — you just got the buzz from @DryerBuzz.com — transforming the way we look — at life!
Veteran entrepreneur and blogger, Yalanda P Lattimore, answers 27 of the most frequently asked questions (FAQs) about creating buzz for business, blogging for business and nonprofits, with social media, networking, customers, and business.
Yalanda P. Lattimore is the founding editor of DryerBuzz.com News Podcast and NetTV and owner of Sistributions Media. With two decades engaging niche audiences and helping entrepreneurs create buzz for their business, Yalanda moves into a new arena as an author and publisher.
Also available via Amazon in print and kindle.
Extend business shelf life with customers by offering books, series, how to's, product catalogs. Or, turn your blog into the next best seller.  Learn secrets and easy strategies of self publishing and create buzz as an author and expert.  Whatever your book desires, we'll help you reach your goal and create buzz.  Join us in March for the next #27Answers to Create Buzz live webinar.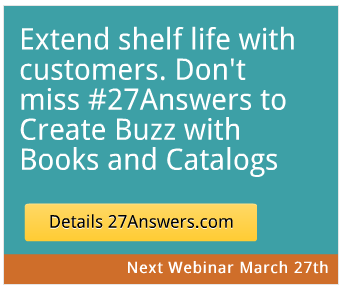 Webinar: From editor of DryerBuzz.com, join veteran blogger and buzz maker Yalanda P Lattimore Thursday, March 27th. Learn to create buzz in 2014. Listen for tried and true best practices in this unique #27Answers presentation followed by hands-on Q&A. Those who stay ready don't have to get ready, so #27Answers is all that's needed.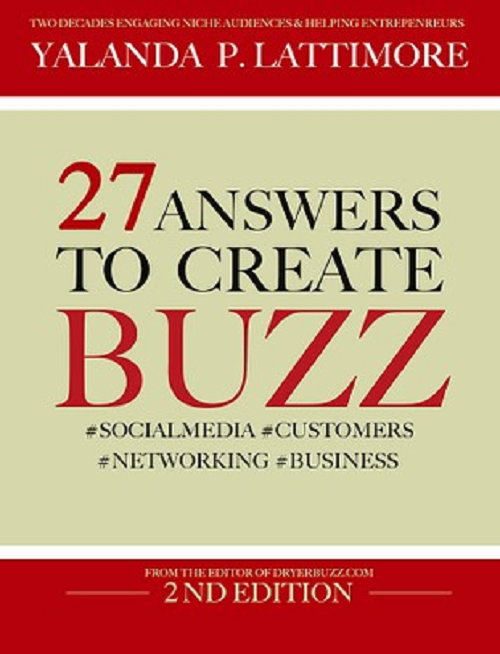 Includes FREE book #27Answers to Create Buzz signed and delivered via US Mail. Ebook provided for workshop.
In this installment, we learn to create buzz with a book. Publishing made easy with tried and true methods.
Turn your blog into a buzzing best seller
Create a buzzing catalog for your business
Become an author with your first great novel
Turn your expertise into the next best how to
Turn followers into lifetime customers with a book
Become the leader of your peers, audience, customers and avoid haters (PACH) when you learn to create buzz with #27Answers to Create Buzz, Thursday, March 27, 2014.
RSVP today. Ebook and conference call info provided via email following registration.