DryerBuzz Entertainment Buzz — Commentary with Yalanda P Lattimore, editor DryerBuzz.com
Watch it
Raw Transcript:
It's time to get the buzz from DryerBuzz.com — MiMi Faust Screws Entire Lineage — let's get it buzzing… Let's get to the root of the story — the consequences.
Listen
Download this buzz from DryerBuzz.com
Read It
Mimi Faust had a slight chance to be a different woman. She could have gone hard for her family but instead she went hardcore and screwed her entire lineage. Her family tree lost another branch, leaving her daughter, and daughter's daughters to come out on a limb.
We all know reality women use platforms of their respective shows to push product, but hardcore p()rn. She's not the first, won't be the last, but let's call it what it is and not be shady about it. It's sad. Young people today have enough problems deciphering between right and wrong, negative and positive, and what's dignified. This is wrong. Certainly not positive and there's nothing dignified about it. This is a woman absolutely turned out. Come for me if you want to… but it's wrong. What even worst, MiMi's arch nemesis, Ms Joseline became so enraged in jealousy that she filled her social media timeline with her own nude pictures — really?? #traumatizedorphans
Ms Joselines loves to say us older chicks need to school some young chicks, well here you go…
We already told you, reality TV banks on men and women with #failedmatriarchs — no mothers or decent parenting. Go down the list if you will. This game is calculated and it will impact future generations. Both MiMi and Joseline, soon to re-enter space of television in the 3rd season of a reality show called Love & HipHop Atlanta. Did no one trademark hip hop and have power to stop such a degrading generation from using phrase to describe such the iconic culture. As a woman born with hip hop, I remember women going hard but hard core. Hip Hop is running politics, in the white house, making change under gold domes all across the country. We're teachers, mothers, hell grandmothers — I guess that's why they're calling MiMi trist in front of the camera — granny p()rn. Girl what are you doing?
No more motivational appearances for MiMi. Her calendar will no doubt fill up with p()rn conventions. She might cash a few checks — but what's most important — she didn't break the cycle of failed matriarch and may have created yet another traumatized orphan in her family tree. Though she may not have abandon her daughter literally — she's forced her daughter and her entire lineage to shade another branch on the family.
This is a woman turned out — no doubt. All jokes aside… hang that from your shower rod and wait for dignity. #HairSheBuzz
That's your entertainment buzz from DryerBuzz.com – watch it read it listen today and everyday to get to the root of the story — we're transforming the way we look — at life. I'm Yalanda with an A Lattimore, and the a stands for always got that buzz from DryerBuzz.com #goneblogging
Side Buzz:
Veteran entrepreneur and blogger, Yalanda P Lattimore, answers 27 of the most frequently asked questions (FAQs) about creating buzz for business, blogging for business and nonprofits, with social media, networking, customers, and business.
Yalanda P. Lattimore is the founding editor of DryerBuzz.com News Podcast and NetTV and owner of Sistributions Media. With two decades engaging niche audiences and helping entrepreneurs create buzz for their business, Yalanda moves into a new arena as an author and publisher.
Also available via Amazon in print and kindle.
I can remember the first day my son, my youngest, let me sleep in.  He decided to wake himself. Dress himself. Get himself to the bus and to school without my help.  After waking to the sound of the wheels on the bus going round and round, I rushed to his room only to discover he was on that bus without his mother's help.  I worried all day about what he wore. What if something happened and I didn't know how to describe him. Mother's do that.  Although he was ready for independence, I wasn't. Still am not.
Download this buzz from DryerBuzz.com
Years of lying in that space half asleep half awake, waiting for kids 3 and 4 to pounce on my bed begging for and debating their favorite breakfast items are gone.  Days waking in a panic to half the day gone because it's more fun to "let mommy sleep," which I have heard several times echoing in hall from kids 1 and 2, keeping 3 and 4 in step.  They so enjoyed their independence. As long as I didn't smell smoke, I enjoyed the sleep.
At this age, kids long since independent, sleep is prescribed.   Energy once reserved for the kids  went into blogging, business building for DryerBuzz.   Two hours of sleep once again became the norm. Power naps here or there — thought i was good to go.  NOT!
If forty is fabulous then fifty is disease or shall we say chronic disease prevention.  Hence my fascination with sleep. With AARP stalking me on Facebook, I've begun the descent into 50. Time to sleep. No more all night editing sessions. While we're cutting out things, scratch off after parties, egg yolks, milk, white potatoes — the list goes on and on — especially if you want to ascend into 50 and not descend.
From psychologytoday.com, in Women: Poor Sleep, Inflammation, and Heart Disease: "Getting enough sleep on a regular basis is one important way to protect the health of your heart. Poor and insufficient sleep is associated with a range of cardiovascular problems, including high blood pressure, heart attack, and heart failure. Heart disease is the No. 1 killer of women, and is more deadly than all forms of cancer combined." Pardon me while I take a nap.
After getting all this new and prescribed good sleep, what's the first thing to do when waking up — drink water. Sleep and water. Two things abundantly available but much deprived. The latest trend and happy life tip is to drink water upon waking. Wake. Water.  I can remember that. Surely, I've got time to stop and drink water. Of course I do now that I'm on morning medication — as I ascend into 50.  Late night visit to hospital with chest and arm pain; three Nitroglycerin tablets; an overnight stay; and stress test later — I'm sleeping and drinking water. No argument from me.
Sleep, water and one more thing — love.  To live is to love yourself before others. Loving self first is not a selfish act. Won't be here to love others if we don't take care ourselves.  Dealing with consequences of being sleep and water deprived, I discovered more about love than I knew. From family staking out emergency room with me to true friends shining through timelines offering care and concern.  Of course we all make those early promises to do better. Here I sit blogging though I promised to do it less. But storytelling is one of my loves.  I promise to blog only after I've had enough sleep and water. There's lots of love to give and receive.   I really like the receiving part.  Sips water.  Nestles snug in bed. #HairSheBuzz
VideoBuzz:
You just got the buzz from @DryerBuzz.com — Transforming the way we look — at life!
Extend business shelf life with customers by offering books, series, how to's, product catalogs. Or, turn your blog into the next best seller.  Learn secrets and easy strategies of self publishing and create buzz as an author and expert.  Whatever your book desires, we'll help you reach your goal and create buzz.  Join us in March for the next #27Answers to Create Buzz live webinar.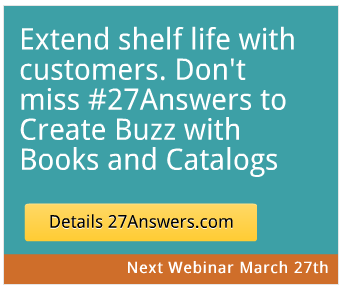 Webinar: From editor of DryerBuzz.com, join veteran blogger and buzz maker Yalanda P Lattimore Thursday, March 27th. Learn to create buzz in 2014. Listen for tried and true best practices in this unique #27Answers presentation followed by hands-on Q&A. Those who stay ready don't have to get ready, so #27Answers is all that's needed.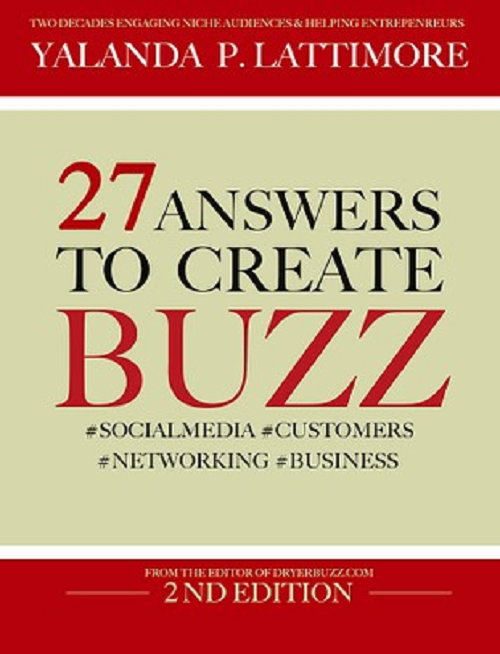 Includes FREE book #27Answers to Create Buzz signed and delivered via US Mail. Ebook provided for workshop.
In this installment, we learn to create buzz with a book. Publishing made easy with tried and true methods.
Turn your blog into a buzzing best seller
Create a buzzing catalog for your business
Become an author with your first great novel
Turn your expertise into the next best how to
Turn followers into lifetime customers with a book
Become the leader of your peers, audience, customers and avoid haters (PACH) when you learn to create buzz with #27Answers to Create Buzz, Thursday, March 27, 2014.
RSVP today. Ebook and conference call info provided via email following registration.
VideoBuzz: As heard on the Toni and Griff Show with Michael McFadden, DryerBuzz pauses entertainment to pay tribute to the passing and death of Nelson Mandela by recognized those who share the world stage as humanitarians. What does it take to make self sacrifice and commit to service.
Listen daily for Toni and Griff Show http://TGSMM.com
In honor of the passing of Nelson Mandela, We pause the entertainment report today to talk about greatness – interesting how the two don't often coincide – well let me tell you.  Living in America, we live under a veil of #mediaapartheid, so many americans do not aspire to greatness unless making a concerted effort to venture beyond American media to international media. Not since the war on civil rights has american media truly shown devastation which takes place around the world and here in America.  Media has to satisfy imagination of it's demographic. Which begs question, what does Americans imagine? Who remembers curling up with Life Magazine, National Geographic, Ebony?
While magazines have changed over the years, pop culture stars replacing leaders on their covers, there was still a trail for us to find more to honor in the passing of Nelson Mandela.  What are the makings of a humanitarian? A man or woman who decides to give their life to service? A nobel peace prize winner in 1993, winning with Frederik Willem de Klerk quote "for their work for the peaceful termination of the apartheid regime, and for laying the foundations for a new democratic South Africa."
Who, we wondered, shares such a world stage? What is it to be known around the world for self sacrifice and service.  There's history every but what about the future? Who's the next Nelson Mandela? Most today are familiar with Nobel prize awards because of Americans MLK, JR and of late President Barack Obama. However, In one click and review of NobelPrize.org,  we found a century of peace prize winners, including amazing nobel prize winning WOMEN.
Let's take a look…
2011 was special for me as three women shared the nobel peace prize award Ellen Johnson Sirleaf, Leymah Gbowee (gobawee) and Tawakkol Karman "for their non-violent struggle for the safety of women and for women's rights to full participation in peace-building work" – I remember being excited to blog about at DryerBuzz.com
But who are some of your picks?
Jimmy Carter also won in 2002; Yasser Arafat follow Mandela in 1994; also rounding out top ten are …
1.
Martin Luther King Jr.
2.
Mother Teresa
3.
Nelson Mandela
4.
Organisation for the Prohibition of Chemical Weapons
5.
Jane Addams
6.
Barack H. Obama
7.
Elie Wiesel
8.
Theodore Roosevelt
9.
Le Duc Tho
10.
Aung San Suu Kyi
That's your entertainment report for the Toni and Griff Show with Michael McFadden. Save the Date, New Years Eve Morning, December 31st 10AM before you start your festivities, join me and my radio and blogging friends to become WHOLE before the clock strikes 2014. Tap into wisdom, health, ownership, love and economic at the Hope Financial Dignity Center.  It's going to be a great debate – nationally streamed.  I'm Yalanda with an A and the A stands for advocate #goneblogging.
Follow the buzz with http://DryerBuzz.com and @DryerBuzz on twitter.
Contrary to Scandal — That Ain't Our History! First and foremost, Black women are in essence WOMEN. Believe it or not, whether we are simply women has been argued for centuries.  Occasionally, a woman comes along like Kerry Washington who wants to make strides by simply being a woman and not necessarily a Black woman — in television and Hollywood.  Washington is very much down for cause of sisterhood — but her strides in television and movies are a different matter.
Contrary to second and third season Scandal,  looking back to first season – the characters were supposed to be racially ambiguous — a show about money power and sex but not race. We were supposed to be in post racial America.  Seems like other races  boycotted first season  (by omitting from their viewership like Oprah's audience abandoned her) while Black women set television and socially media trending records.  This brought all the boys to the yard — and by boys, I mean television powers that be.
Nonetheless, Scandal fever took a while to benefit Kerry Washington.  We are in third season and she finally hosted Saturday Night Live (SNL). In light of #mediaapartheid, I refused to watch SNL and was quite frankly very disappointed in my timeline and disappointed of Reverend Al Sharpton for appearing on the show. I ain't in demographic for SNL — excuse me but — we ain't in demographic.
Hiring a Black woman and civil rights leader for one night does not erase decades of #mediaapartheid.  Check scandal brewing at SNL at post time:
Beyond SNL, did you notice during first three record trending seasons of Scandal, Kerry Washington was very nearly the only Black female on major record carpets and attending mainstream award shows.  During a repeat visit to White House Correspondents' Dinner activities which headlines the real President of the United States as key speaker — of which Kerry Washington frequents, she appeared and was interviewed with most media outlets unaware of her amazing accomplishment with her show. This proves for the most part — Black women in television have a secret power – we're invisible.
Case in point. While we trended Scandal to the top from first season first episode, it was mind blowing to witness Kerry on carpets in interviews from E channel to Huffington Post where popular interviewers had no questions for Washington — certainly non about Scandal . I remember clearly as such sent me in several twitter rants.
On the flip side — the black side of television and Hollywood — well not Hollywood, Washington and her co-star Tony Goldwyn who plays object of her desires Fitzgerald Grant on Scandal, played out their on-screen love affair on many black carpets — receiving full acknowledgement as tv's top couple — despite being an interracial extramarital affair.  While swirling ain't the issue – extramarital is? Remember we weren't suppose to see color.
However, though Scandal creator and writer Shonda Rhimes develops amazing television dramas — Scandal quickly became a Black Woman's show. One because a Black woman was lead character and Black women are convinced this ain't happened but couple times in history.  Black women don't know what they don't know. Black women certainly refused to support others unless mainstream gives/gave buy-in. #shotsfired.  Two, the Black female lead character was, as we all are, brilliant and powerful. We saw ourselves for a minute. Scandal mimicked our daily lives in corporate America and other powerful arenas — where we put out fires everyday — hear me when I say everyday. The world knows we have solutions.
Then came what was, sadly to say and seemingly so, what was most attractive about Scandal — forbidden chemistry — or simply chemistry of being desired.  Something we all feel as women — but so many like to keep Black women in a category all their own.  So during first season, we don't know if other women  experienced breath taking Scandal'gasms as we. American women for  most part does not allow themselves to trend together. It is what it is.  We ain't post racial yet — when it comes to television, media, and marketing.
But Black women do set the trends.  We could tell as other shows tried to bite off Scandal fever without attracting Black female audience.  Such shows failed.  But what just happened post Kerry Washington's Saturday Night Live (SNL) hosting amid it's Scandal in the absence of Black women??? Let me tell you.
First, many think Kerry Washington killed it (that's a good thing to some) — it's all in timelines and headlines — WHATEVER! We can agree to disagree.  However, three seasons in, Scandal just got it's crossover.  The character Olivia Pope, played by Kerry Washington, known as the show's criminal, whore, idiot, liar in an interracial extramarital affair with daddy issues — is TODAY — pereived in your office at your water cooler —  as Black women (plural) —  we created the monster.  Yes, we created a monster where by second season Shonda Rhimes drugged through the mud.  The minute her panties hit the floor — it should have been over.
Post SNL mainstream crossover, America didn't meet season one Olivia Pope/Kerry Washington that we loved. Mainstream is now wondering – Do Black Women Desire Interracial Extramarital Affairs? While we wear cloak of beautiful and highly desired hues — contrary to Scandal (and some reality shows) – we are not all caught up or seeking Interracial Extramarital Affairs.  
Television being THE greatest influence — don't get it twisted. Again, while some might get their swirl on, contrary to Scandal, we're not about dropping it like it's hot all over the office or White House — remember that's not us or our daughters. That's not our history.
We're not about being yelled at or told to get out of cars on hunting trips or snatched in closets.  Remember Scandal was supposed to be racially ambiguous, so Kerry Washington as Olivia Pope had to mix it up a bit — doing things where some of us would say, did say — what the hell?
Now here comes mainstream.  Post SNL appearance by Kerry Washington, should Olivia Pope be worried?
Can Pope handle fact that TeamMellie just got major boost.  Olivia IS all alone. SNL issues aside. Scandal is no different when it comes to hiring black women.
You see Black women in creating trend that became phenomenon of Kerry Washington/Olivia Pope –well Black women never required ABC or Shonda Rhimes to add more than one Black woman to the top network show.
Black women were happy with just one. Now Olivia Pope has no where to turn — except her interracial extramarital affair — if she survives season of jumping in front of bullets to save clients, repeated assassination attempts, a scorned wife, daddy issues — and the question trending in minds of many – Do Black Women Desire Interracial Extramarital Affairs?
Don't call me a hater unless you fully understand that to hate is to highly anticipate the error (hate). I think I fully pointed out the errors. Women don't know what they don't know — Now they know!
Yalanda P Lattimore is  editor of DryerBuzz.com and author of #27Answers to Create Buzz.  She hosts  series of empowering workshops and annual New Year's Eve national live streamed dialog and forum.  Follow Yalanda on twitter @DryerBuzz
Save the Date! Watch
Hair She Buzz — You just got the buzz from www.DryerBuzz.com — Combing the headlines. Transforming the way we look — at life.
Next month has five (5) Sundays so guess I'll be at church bright and early to bring  the view from my pew. As a blogger, I go where there's content. My church of choice has no shortage.  Love going to church.  Like many southern born beautiful brilliant black girls, spent much time at church in my youth with grandparents who were great God fearing Christians who wanted sinless grand children.  They did that! We all turned our marvelous. Don't be jealous – LOVE was the key.
Missing LOVE felt as a child and true fellowship in community, I prayed (yes i prayed) for a new and different church home to come to the neighborhood.  Change was needed after I visited a nearby Methodist church (similar to my grand parents – God rest their souls).  Unfortunately I arrived minutes late during this first impressionable visit and was left sitting in vestibule side-eye'd by renegade usher for interrupting  pump and circumstances which happens at beginning of service that went on and on and on. Next thing I knew, devil himself was sitting next to me telling me to curse that mofo out.  Then came this woman with this screaming child to join me and I was like – ok this ain't me. I should not be this mad while trying to enter church.  As I prepared to exit, finally usher opened doors and let us in.  Still should gone went home.  But I stayed. Had already paid ATM fee for my church contribution.
Some people say "God ain't through with them." Well perhaps at that time, God HAD NOT even started with me.  I was hell on wheels trying to sit up in somebody's pew. Even though I don't quote scripture, I like going to church. I love a good sermon even though I can't stand when preachers say #touchyourneighbor – please don't bother me.  When preacher says #touchyourneighbor, feels like he/she either forgot scripture, lost their place in sermon and want us to look away, or they just don't know what their doing.  Touch your neighbor to me is like "baddest man hit my hand." Why preacher telling you to insult me? Don't start none won't be none. What is with these insane quotables during  message supposedly from GOD? Where they do that? Apparently EVERYWHERE! Please stop.  Don't turn to me cause I WILL tell you to #getbacktotheword.
Right now at post time, multi-location Elizabeth church of Douglasville can claim me as a member. Pray for them.  I likes my location – the one that God sent after he heard my prayer (Narcissism). Lucky for bro preacher Craig Oliver Sr, I'm only a 5th Sunday member thus far. However, I noticed a change in the brother recently and now I want to go more – not for him – but for the word he let shine through.  AND he only said #touchyourneighbor one time. AMEN
I got jokes for days, but seriously here's my testimony.  When God answers prayers, HE answers them big time. God decided to open EBC Douglasville on Easter Sunday.  Even though many of the Devil's advocates tried to turn me around, I made it to church on the busiest Sunday of all-an Easter Sunday church grand opening – where they do that?  Had no excuse. The church is within two miles of my house – walking distance – even though I had to park another mile away and take shuttle back to church – just backwards.  Like I said the Devil was busy.
Back to testimony.  Make a long story short – I was thrusting myself into church life for all the wrong reason. Was trying to buy some time from God.  Knowing this wasn't right, I even asked the question and blogged about it after attending TD Jakes, Woman Thou Art Loosed held in Atlanta…
As you can see from the blog post if you clicked,  there was some great messages to such an event,  yet I was left a bit confused.  I needed some answers.  All of this was somehow different for me – and certainly different from the way my grandparents worshiped.  Why was I not falling in step with modern day church?  What's up with my life? Thus begged the questions. What saith the Lord?
Every prayer that I prayed was procrastination. Did not want to face what was going on in my life.  In fact, I was forcing life. Every second of it. Did not want to be present in it – the problems of it. Life was not good. Looked good but was not good. Started going to church for all the wrong reasons. Was laying all the wrong stuff on alter and I'm sure God was like "where they do that?"
Guardian angels assigned to me by GOD were getting real frustrated. I was making demands that, quite frankly, was and should have been insulting to all matters of spirituality.  ONE DAY –  God himself got upset with me. The Devil had me listening to a gospel station which made me question all that God had done for me or not done according to their prosperity preaching.  OMG the thoughts in my head and utterance of foolish that came from my mouth — made GOD himself pause his works and STEP to ME.
If you've never felt the absolute presence of GOD step to you – you don't want to feel it – not in this manner.  OMG literally. Now mind you I ain't a saint but I am highly spiritual and connected.  At that moment, I felt my guardian angels bow down and a presence move forward directly in my view where the hairs on my chinny chin chin stood up (have since had a waxing – didn't know I had had on my chin). From my foolish utterance and belief brought forth by prosperity preachers heard that time on that gospel channel – God said "I DID NOT give you a business, I gave you a MISSION and in process supplied ALL YOUR NEEDS! You've NEVER had a NEED for NOTHING.  Do as I have instructed you." BAM!
From that moment, life flashed before my eyes and I couldn't remember a problem I thought I had that wasn't solved.  Everything had a solution. God was right. Man was wrong. I snuck back to alter removing items placed at earlier times and laid one prayer – God help me to be present in MY life – no more prayers of procrastination or for things.  I continued as a faithful 5th Sunday member, getting in an extra Sunday here or there and rolling up on bible study occasionally. However I busied myself at being present in other aspects of my life. Present in my problems that soon went away. Present in my fear that soon became courage. Present with my children. Present in my health and other aspects of my life. I just wanted to be present – especially present in what GOD needed me to do. I stopped judging my life by man as that was the source of my doubt, disappointment and pain.
Sometime there after even 5th Sundays got away from me.  Time was moving right along.  My daughter came to me and said "Ma we need to go to back to church. We gotta a whole lot of blessings going on up in here."  She was right.  Obediently, I had been so busy being present and so present being busy that I had not noticed.  Even those things and I do mean "things" that I took from the alter was happening in our lives. To God be the glory. It was time to be present at church again. Didn't wait for 5th Sunday – just headed right on back to church and so far I am loving the view from my pew.
Church is different when you go for the right reasons.
Get more view from my pew when you follow the Buzz Sundays via DryerBuzz on Instagram
Hair SheBuzz! — You just got the buzz from DryerBuzz.com — Transforming the way we loo — at life!
You should wish you have a slave mentality
Then you would…
Have will to escape plantation
Save family from degradation
Create institutions of education
Save country with innovation
Master art of herbs as medication
Be another generation's confirmation
Fight against defamation
Maintain freedom in harmonization
Enjoy communities full of implementation
Make real use of proclamation
You should wish you had a slave mentality – then you too would be a former slave! ~ Yalanda P Lattimore
Go to the source – Listen to Fountain Hugheshttp://memory.loc.gov/service/afc/afc9999001/9990a.mp3
Follow the Buzz for more http://memory.loc.gov/ammem/collections/voices/vfssp.html
The Clippings! — You just got the buzz from www.DryerBuzz.com — Transforming the way we look — at life.
VideoBuzz: In this quickbuzz video, Yalanda P Lattimore, editor of DryerBuzz.com and author of #27Answers to Create Buzz shares a quick tip on how to create buzz.  "Go from the audience to the stage; from the back to the front. That's how you create buzz, says Yalanda."
Catch more of these great tips from #27Answers as you follow the buzz. Subscribe | Instagram | Twitter | Facebook
27Answers — You just got the buzz from www.DryerBuzz.com — Combing the headlines. Transforming the way we look — at life.
Not sure what demographic Lee Daniels had in mind for The Butler or who he wants to witness the roles played by Oprah Winfrey (Gloria Gaines), Mariah Carey (Hattie Pearl), Adriane Lenox (Gina), Yaya Alafia (Carol Hammie) – it sure ain't Black women.  We don't reminisce in fiction with that amount of pain without redemption for our souls. My advice for this movie – Don't Take a Black Woman to See The Butler! #HairSheBuzz
Rewind the tweet as the pain poured from screen to our stream @DryerBuzz. To borrow from a line in the movie, given to one of the male characters no less — "Did you ever love me?"
I'm warning you – Don't Take a Black Woman to See The Butler! #HairSheBuzz — Yalanda P Lattimore
Hair She Buzz — You just got the buzz from www.DryerBuzz.com — Combing the headlines. Transforming the way we look — at life.